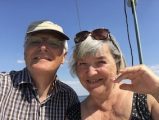 At the beginning of August 2016, we left our home port in Humlebæk. The moorings left us as usual, but we went to the Mediterranean. A month later we reached Travemünde. Here the mast was taken off and we sailed into the European river and canal system. Two years later we reached the Mediterranean Sea. The goal of this website is to give family, friends and who, or may be interested, the opportunity to accompany the trip. Here you are welcome to comment, write greetings or ask questions.
We are looking forward to hear from you.
15 entries.
Hi Pia and Carl.
Yes, so we finally left.. Thank you for info about mast transport, it went smooth.We are now at Cassis, with plans to sail to Italy to find a winter port. We hope you get good wind and many good experiences. If you wish, please visit our website https://holmlauritzen.wordpress.com/. The best regards Camilla
Have read your report with great pleasure, have even sailed the channel, both in my own boat and with friends since 1975. Have a good trip.
Hi Pia and Carl.
Thank you for your prompt and good response, you have been very helpful.
I have called and talked to Rainer, a very kind man, we await an offer from him, he should just wonder it, because he will also need a diver compressor delivered. He has recommended that we also investigate Baltica marina in Travemünde, where he also collects.
Nice to hear that it is a beautiful trip there are us waiting.
Once again thank you very much.
We will follow you on your exciting trip.
vh camilla
Hi Pia and Carl.
Nice to read about your trip.
We are leavin May 2018, with our 2 children.
I can read that you got your mast transported down there, we have also thought that we think the mast takes too much space on the boat.
Who did you get hold of and how did you organise it ?
Enjoy the amazing trip, we are looking forward to our trip.
The best regards from the cold Denmark.
Camilla
Hello Heron
Thank you for an exciting blog. We are also dreaming of a trip through Europe, this year we have been through the Göta Canal. It was amazing and would like to go back for 2 years next year to use the boat as we bought 3 mdr before departure so we found out what we would like to do about the trip ... .. looking forward to following your continued journey mvh kaja
Hi and thank you for the awesome stories and films.We are getting ready for the trip, starting in the middle of 2018. However, we have a small (big) problem, 175 in draft does not mean there is a problem in Germany, the Netherlands, and Belgium, but in some of the French channels. Do you have any idea of ​​which might be a problem.
Mvh Ole
Can I find your videos on youtube?
Link?
So nice to follow you. Have you been to many of the places in the car yourself? My journey now goes to Sydney, to visit my daughter and son-in-law. I look forward to seeing them again. Going to Blue Mountain on an extended weekend. Hope you still get a good trip. A big greeting from me to you. Watch out for yourselves.
Hi
Have read your blog with great interest as we are heading in the opposite direction of an Oceanis 361, which we bought here in 2015. We are in Gruissan and in one or two weeks when the weather is a little warmer, we sail to Port San Louis and start the trip north so it can be seen along the way. You can read about our trip on facebook: S / Y Inuk (writes in English for family and friends abroad). Do you have the mast on board? How are you doing? Just a few pictures of how you've fixed it. Sincerely. Claus and Chui Ping.
Have sent an email to your g-mail account.
Hi
We are also in Maastricht (with SARA IV Yellow Bridge No. 211) and visit the 1 boat a week in December.
Greetings
Kerstin & Morgan Olsson
Hi Pia and Carl - yes, I have said before, but it can not be said too often: Very good trip - both what the cruise is about and the year to spend in the Mediterranean. Interesting to see your pictures - and also the video. There is no doubt that it is an interesting trip too, as you see a lot of people you do not see. I do not have the sail, but in 2001 I had to ride a motorcycle to Lyon and there was probably a bit of the same freedom, although yours is a much better way. Looking forward to following your trip and maybe we'll see you next year. There was a great atmosphere to repeat the arrangements with the "old" schoolmates. If you cut to the Facebook group, then you can see what happened. Remember to get some paella and sangria when you are in Spain !!
Hi Dennis,

Thank you for your greeting.

The master plan is to sail on the European river and canal system for the Mediterranean.

We "stand on" the system at Lübeck, sail through Germany, Holland, Belgium France and reach the Mediterranean Sea at Port St. Louis, located a little west of Marseilles.

The trip can be done on the 1 month, but we expect to spend more because we would like to stay if we find some nice places along the way.

We still do not quite know what we do when we reach the Mediterranean.

The possibilities are many.

Maybe we win on the boat or sail further south to Spain or rent a house in southern Spain and spend the winter there or go home.

Time will show
Hi Pia & Carl. I wish you a wonderful trip. Take care of yourself and write about all the superb experiences you get now on the book. Where are you going?
Then we managed to set up a website.

Here you can ask us questions, send us a message or just a little greeting.

We look forward to hearing from you.

Greeting

Carl & Pia