Heron is a Bénéteau Oceanis 36cc.
It was designed by Berret Racoupeau Yacht Design and built in France in 2003.
The model was developed at the request of Bénéteau's Scandinavian dealers. They wanted to offer a boat with the same sailing characteristics, comfort and quality as the competitors Hallberg Rassy, ​​Najad and Malö. Just at a more attractive price.
The hull is the same as the First 361, but the Oceanis XNUMXcc has a center cockpit and a wing keel.
The boat is fun and safe to sail and is easily handled by 1 or 2 people. With a depth of 1,53m we can call on most ports.
We spent more than a year investigating the market as we had decided to upgrade our Bianca 28. In autumn 2010 we bought this Heron. At that time it was in La Rochelle and at the end of October it came to our home port in Humlebæk.
In Denmark our season went from March to November. We typically had about 100 sailing days a year and each year we sailed around 1.200 nautical miles. Weekend trips often went to Copenhagen where we visited family and friends. The summer trips went to Denmark, Germany and the Swedish east and west coast.
In August 2016 we sailed into the European rivers and canals heading towards the Mediterranean.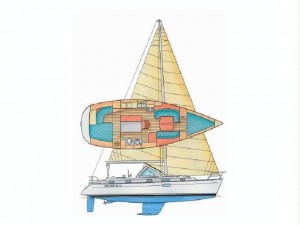 L: 11,10m B: 3,80 D: 1,53m H: 14,46m V: 6.470kg Major Sail 24m2 Genoa 34,7m2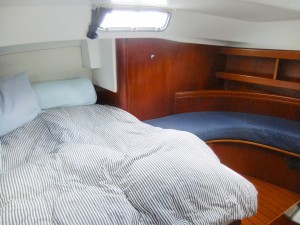 Aft cabin with double bunk and sofa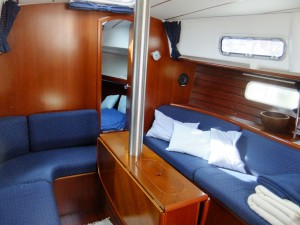 Lounge with room for 6 people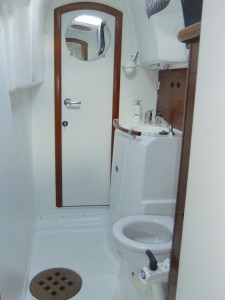 Toilet with shower, hot and cold water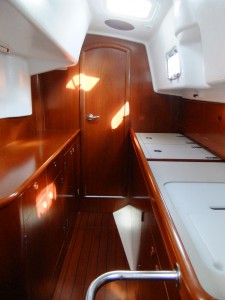 Pantry with oven, fridge, and hot and cold water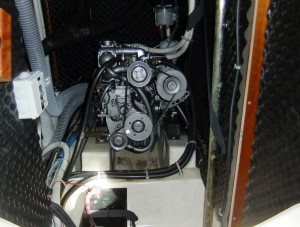 Engine room with plenty of space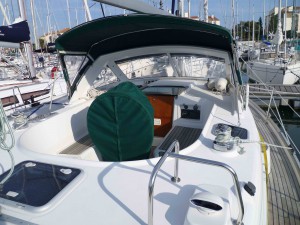 Center Cockpit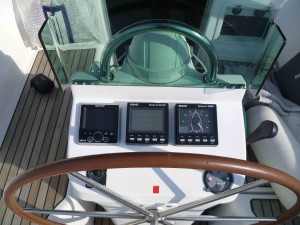 Autopilot, log and windmeter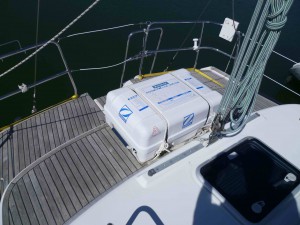 Liferaft
Equipment
Engine compartment
Yanmar 3GM30F 27HK
Heating systems - Webasto
Bow thruster - Lewmar 185TT (2016)
Electric windlass - Leroysomer
Charger Dolphin 12V 20A
Inverter - Invatec PS 300 (2016)
Landström 230V
Tanks
130 liter diesel tank
420 liter water tank - 150l + 270l plastic
Communication
VHF - IC-M411
VHF Handheld -IC-M3EURO
Radio with CD-JVC KD-R731T
Navigation system
Chartplotter - Raymarine C120
Chart Plotter - Furono GP 1650
AIS - Garmin300
Autopilot - Geonav
Log and depth gauge - B & G network QUAD
Wind gauge - B & G network wind
Batteries
1 pcs. Huawei (GEL) starter battery 100aH
3 pcs. Huawei (GEL) Consumption Batteries a 100aH
Pantry
Gas cooker
Refrigerator
Freezer
Safety
Liferaft
3 pcs. Fire Extinguishers
Fog horn
Lifejackets
Emergency rockets
Other
Cockpitelt (2015)
Rubber Dinghy
2 bikes
Hot water tank - Quick (2016)